Announcements
Having problems receiving emails from the NMFMA?
If emails from us end up in your spam folder, try this: add *@farmersmarketsnm.org and *@memberleap.com to your email system's Contacts list (don't forget to include the * ). Emails from contact lists usually bypass spam filters.
---
Farmers' Market and Vendor Guidelines During COVID-19 Crisis
Read the May 14, 2021 Public Health Order here.
Read the May 21, 2021 COVID-Safe Practices for Individuals and Employers here.
---
COVID-19 Local Food Supply Chain Response Fund Infrastructure Grant Program Application for NM Farmers & Ranchers
The application deadline closed on March 17, 2021. The documents linked below can be reviewed for informational purposes.
---
New Mexico Grown Approved Supplier Program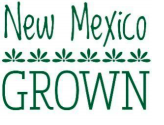 If you are a grower interested in selling your locally grown food to New Mexico schools, senior centers or early childhood sites, consider becoming an Approved Supplier. Deadlines for the FY21-22 school year are:
Priority deadline: March 1, 2021 For returning vendors and open to new vendors. Vendors will be approved to sell by June 1, 2021.
Secondary deadline: June 4, 2021 (deadline extended) Vendors will be approved by September 1, 2021.
Rolling Approval deadline: Available to prospective vendors on a case-by-case basis.
If you will be selling to the schools during the 2021-2022 school year as a NEW vendor, you must complete an approved food safety training course. See a list of training options here.
After completing an approved food safety training course, you can apply to become an Approved Supplier by using one of these applications:
Visit the NM Grown page for more information and download the Approved Supplier Program Packet for a program overview.
These resources are also available on the PED website.
For more information contact:
Sophia Rose
Food and Farming Program Coordinator
(304) 646-8291
sophia@farmersmarketsnm.org
---
August 23, 2021
This is a four-week training program for Indigenous individuals for developing the foundations for their food or agricultural businesses.
October 01, 2021
Every Friday until October: Black Mesa Winery Farm Friday. Limited space for farmers' market vendors.

October 04, 2021
In this course you will learn how to effectively manage your farm or ranch through the principles and practices of Holistic Management®.